[one_third]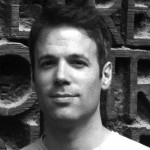 [/one_third] [two_third_last]  José Pedro Sousa (Porto, 1976) is an Assistant Professor at FAUP (Faculty of Architecture of the University of Porto) and a guest Assistant Professor at the DArq (Department of Architecture, FCT University of Coimbra). With an interest in exploring new conceptual and material opportunities emerging from the use of computational design and fabrication technologies, he has developed a professional activity merging the realms of teaching, research and design practice.
In academics, he teaches courses on geometry, design and computation, and he is co-director of the CEAAD, Advanced Studies Program in Digital Architecture. Prior to FAUP, he taught in the undergraduate and master programs at the ESARQ-UIC (University of Catalonia) and at the IAAC (Institute for Advanced Architecture in Catalonia).
At the research level, his PhD focused on rethinking the applications of cork in architecture through the use of CAD/CAM technologies. During this investigation he was a Special Student in Design and Computation at the MIT (Massachusetts Institute of Technology) and a Visiting Scholar at the UPenn (University of Pennsylvania). In 2009 he received the Young Research Award of the Technical University of Lisbon.
Professionally he was co-founder of ReD Research+Design, an architecture studio based in Porto and Barcelona. With completed projects in many European countries, ReD's work was winner of several prizes like the FEIDAD '05, OutrosMercadus '06 and NEOTEC in 2007. In 2010 he was co-founder of OPO'Lab in Porto.
At the CEAU, he is the coordinator of the DFL – Digital Fabrication Lab, which is a Research Group committed with exploring the use of computational design and digital fabrication processes to promote design and material innovation in architecture and the building industry. Currently funded research projects are focused in the application of robotic technologies for a non-standard design and construction in architecture.[/two_third_last]