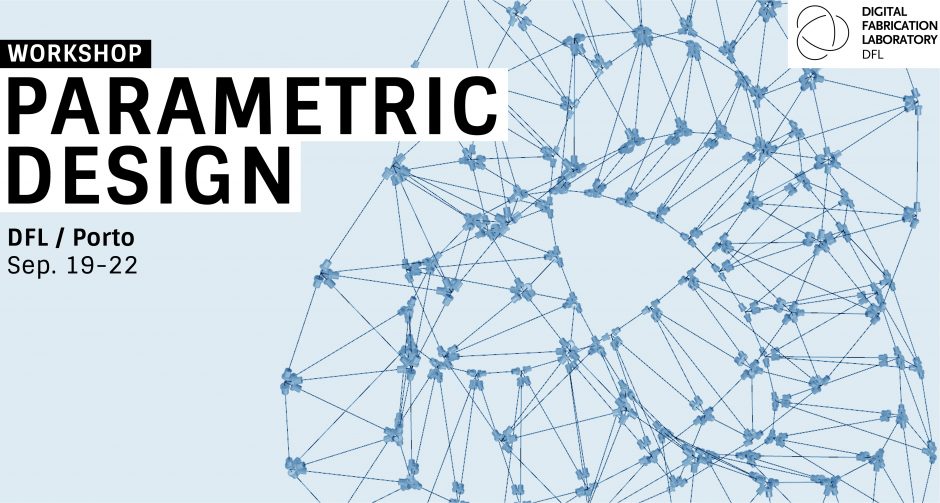 DESCRIPTION
This workshop is an introduction to the use of parametric design processes in architecture and industrial design fields. On an intensive experience at the DFL, the participants will explore algorithmic strategies to think about interactive associations between geometry and data. Using Rhinoceros and Grasshopper, they will test parametric processes to explore design challenges related with the topics of ´form´, ´skin/facade´ and ´structure'.
ORGANIZATION
DFL – Digital Fabrication Lab
The DFL is the Research Group of CEAU/FAUP dedicated to investigate the use of digital design and manufacturing technologies in the design and construction fields.
TEAM
José Pedro Sousa – DFL Coordinator, Assistant Professor FAUP (Lic FAUP, MArch UIC, PhD IST-UTL)
Nohélia Gonzalez – DFL Researcher (MArch IAAC)
Other DFL member(s)
SCHEDULE
September 19-22
16h00-19h30
PLACE
DFL, Digital Fabrication Lab
Praça Coronel Pacheco 1
4050-453 Porto
TARGET
Architecture, Industrial Design and other design-related areas
(students and professionals)
It is not required prior experience or knowledge in parametric design.
PROGRAM
Day 1 – Monday – Parametric design – thinking and techniques
Day 2 – Tuesday – Parametric design – exploring forms and shapes
Day 3 – Wednesday – Parametric design – designing a skin/facade
Day 4 – Thursday – Parametric design – developing a structure
Each class ends with a presentation that will discuss extended applications of parametric design, covering topics like form-finding, design analysis and digital fabrication.
REGISTRATION
140 € – Students (*)
175 € – Professionals
(*) 10% discount for FAUP students
Participants: minimum 6 / maximum 15
CERTIFICATION
Each participant will receive a certificate of attendance issued by the DFL

CONTACT
For registration and/or additional information, please contact:
dfl@arq.up.pt